I was fortunate to attend ASB Unplugged 2012 in Mumbai, India this year.  One of the conference themes captivated me: gaming. I found myself after two sessions pouring through the Kindle Store and the iBooks store to see what books were available on the topic. I settled on Gamification by Design  by Gabe Zichermann &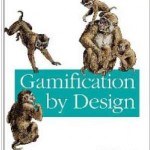 Christopher Cunningham in the iBook store and started reading it during moments of down time at the conference. I was planning on really digging in over spring break.
Prior to the conference, my brain was tickled by educational gaming in a number of instances.  One was having my grade 5 students play Carnegie Mellon Univeristy's excellent Carnegie Cadets game.  When combined with discussion my students were eagerly learning and retaining more digital citizenship skills and information than any other method of instruction. Quite a few of them downloaded it at home and were eager to repeat the missions even after they finished the game. Likewise, I have third and fourth graders eagerly downloading Timez Attack at home.  Another was Jeff Utecht's intriguing Become a Google Apps Ninja post. I kept going back to it wondering if I could find a way to make it work for elementary students.
All of that was simmering on the back burner when I read Madeleine Cox's Gaming the Rules blog post. In it she starts applying gaming principles to helping students understand her school's Acceptable Use Policy. Seeing how this might be used with grade 6 students gave me another kick to get learning and thinking.
She also mentioned that she was drawing on information from Jane McGonigal's book Reality is Broken: Why Games Make Us Better and How They Can Change the World. I already have the gamification book to read over break but I was eager to start so I used my Audible.com membership to download the audiobook. I love audiobooks because they make tedious tasks enjoyable. I am finding them a great option for non-fiction books since I jealously guard my brief reading time for fiction.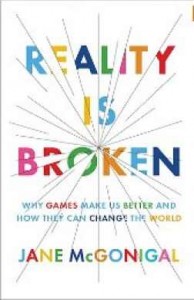 The down side to audiobooks is my inability to highlight and take notes.  Usually I'm listening while working out, cooking or washing dishes.  None of those tasks are conducive to note taking. I may start a blog post to serve as a brain dump for latter reflection.  If I do it won't be pretty but you are welcome to come along for the ride.
If you have already gamified some of the learning at your school I'd appreciate hearing from you. I am especially interested in elementary school examples.